2016 Baltimore Match Play Championship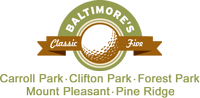 June 11-12 and 18-19, 2016

Click Here for Final Championship Bracket
Click Here for Final Senior Bracket
Championship Division Final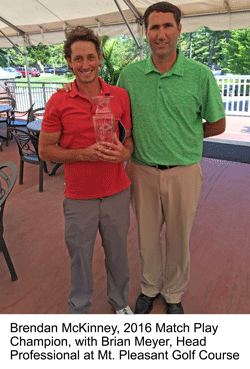 Brendan McKinney, who plays from Pine Ridge Golf Course, celebrated Father's Day in a special way on his home course, June 19.
He never led until the 18th green in a final-round test against Billy Wingerd, then converted a superb approach shot at the 514-yard closer for a winning birdie from three feet and a 1-up triumph for the 17th Match Play championship of the Baltimore Municipal Golf Corporation. In the process he became the first repeat winner of the event since Jason Raivel took the first two, 1998-99 (the tournament was not held three times, most recently in 2013-14).
This was the fifth 1-up final-round score for the event and not one of the earlier ones was contested any more closely than this one. Thirteen holes were halved, including two with birdies and one with bogeys. Wingerd, a former champion who plays from Mountain Branch GC, won the first with a par; McKinney won the eighth with a 5-foot birdie putt and Wingerd came right back with a winning two-putt birdie at the ninth after reaching the front of the green on the 536-yard hole in two.
With Wingerd 1 up, there were no changes until the par-3 17th where both drove the green, finishing some 20-25 feet short of the hole. When Wingerd three-putted, the match was all square going to No. 18. Wingerd put his second shot in a bunker fronting the green and blasted out to 10 feet. Going first, his birdie bid narrowly missed, the ball tailing off at the last to stop right beside the cup.
"It was a test of perseverance," the champion said later. "I wasn't going to give it away. I never give up."
Senior Division Final/Championship Division Quarterfinals and Semifinals
Brendan McKinney and Billy Wingerd, the top two seeds, worked their way through two rounds June 18 to reach the final of the annual Match Play championship of the Baltimore Municipal Golf Corporation at Mount Pleasant Golf Course. The two will play for the title over a scheduled 18 holes June 19 at Pine Ridge GC, beginning at 7 a.m.
In a companion feature, John Howson, the 2012 champion, whipped up on two foes, including finalist Tim McCabe, to capture the event's first Senior crown. He had six birdies in a 7-annd-6 semi-final conquest of Greg Ruark, then stopped McCabe by backing two early winning holes with seven successive back-nine pars and a 2-and-1 victory.
McKinney, the defending champion and last year's BMGC Player-of-the-year, went 3 up on John Marshall early in the back nine of their semi-final, then watched Marshall win Nos. 14 and 16 to be only 1 down. McKinney, however was "shocked" when, after he hit his tee shot to 15 feet on the green of the par-3 17th, Marshall, who was off the green, conceded the match, 2 and 1. "I fully expected to have to hit my putt," the winner declared.
Wingerd, the 2001 medalist (he also medaled last week when he and Doug McIlvaine shot 67's at Clifton Park and Wingerd won the match of cards) and 2003 champion, took care of business by going for "fairways, greens, and pins," en route to a 5-and-4 victory over Nick Desimone.
In the morning quarter-finals, McKinney held off a valiant bid by Brett Keller -- only one hole separated them for most of the contest -- before escaping with a 1-up decision. Marshall thwarted some solid play by Jeremy Goodwin to get by, 2 up; Wingerd had his hands full with John Dustin before emerging with a 3-and-1 win, while Desimone beat McIlvaine, 4 and 3.
"I actually had lost to John the last time I played in this [2012] at Forest Park," said McCabe of his final-round opponent. McCabe 58, from Hydes, got a break when Jim Winner had to go out of town and had to default their quarter-final match. In the final, Howson won the first with a birdie, the second with a par and was not headed after turning 3-up. McCabe pitched in from heavy rough beside the 15th green to narrow the gap, but they parred the next two holes to end it. It turned out to be a combination of woes for McCabe, who had "trouble with green-speed, dug a hole for myself on the front side; left some putts short and finished with four 3-putts."
Howson said, "I had two steady rounds with a few mistakes that I recovered from by getting up-and-down."
Rounds 1 and 2
Form really held up through the first two rounds of the 16th Match Play championship of the Baltimore Municipal Golf Corporation at Forest Park Golf Course, June 12. The first seven qualifiers, plus the ninth, advanced to the quarter-finals, led by defending champion Brendan McKinney.
With 30 players in the Regular flight, McKinney and Wingerd, the 2003 champion, drew first-round byes. McKinney then defeated Kevin Lyons, 4 and 3, and Wingerd stopped Joe Weaver, 4 and 3. Nick Desimone defeated Mike Filler, 1 up. in the closest of eight afternoon pairings.
Brett Keller was the No. 9 qualifier (76) and he made it through two rounds with wins against Nick Childers and Spiro Morekas, who sidetracked the No. 8 qualifier, Carter Connelly, in the first round.
The other quarter-finalists are McIlvaine, John Marshall, Jeremy Goodwin, and John Dustin.
In the first-year Senior bracket, the top four qualifiers reached the semi-finals, setting up the pairings of medalist Greg Ruark vs. 2012 champion John Howson and Jim Winner vs. Tim McCabe.
Play is scheduled to conclude this weekend, with the Regular division having quarter-finals and semifinals June 18 at Mount Pleasant GC and a scheduled 18-hole final June 19 at Pine Ridge GC. The Seniors will have semi-finals and a scheduled 18-hole final June 18 at Mount Pleasant GC.
Qualifier
Billy Wingerd and Doug McIlvaine each shot 4-under-par 67's to tie for the medal in qualifying for the annual Match Play championship of the Baltimore Municipal Golf Corporation at Clifton Park Golf Course, June 11. Wingerd won on a match of cards to earn his second straight prize -- and third overall -- after leading with 68 last year.
Defending champion Brendan McKinney was an automatic qualifier and placed at the top of the 32-man draw. The only other former champion competing in the Regular event is Tim Elliott, the 2002 titlist.
A Senior division has been added this year and Greg Ruark led the way in an 11-man field with 71, trailed by Tim McCabe with 73, and Jim Winner, 74. John Howson, won the 2012 championship and is now entered in the Senior division. He finished fourth in qualifying with 77.
Two rounds on June 12 at Forest Park Golf Course will reduce the flights to eight players in the Regular division and four in the Senior. Play will continue June 18 at Mount Pleasant GC and June 19 at Pine Ridge GC.