Josh Williamowsky and Ben Warnquist combined to birdie two of the last three holes to hold off a solid bid by playing companions Ray Sheedy and Chris Baloga and win the 27th Two-Man Team championship of the Baltimore Municipal Golf Corporation at Mount Pleasant Golf Course, May 15. The third visit was the charm for the Montgomery County residents, as they had finished sixth and fourth in earlier years. The two sides totaled seven birdies and had no bogeys.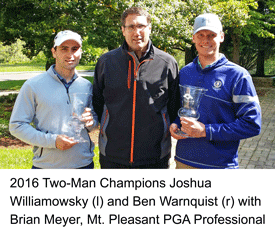 The Manor Country Club members, who began the day with a two-shot lead, finished 65-68--133 to 67-67--134 for Sheedy-Baloga, bidding for their third title.
Warnquist, who will defend his Maryland State Amateur title next month was quick to give credit where it was due after Wiliamowsky made two of the team's three birdies and was 1-under-par on his own ball, "It helped to have a good partner," he said. Williamowsky birdied the third hole from 15 feet and the 16th from 12 feet, while his partner dropped a 25-foot putt at the 17th.
They needed all of them as Sheedy made all four of his team's birdies -- at the first, eighth, 12th to tie for the lead at 7 under, and the 18th. He gave his team a chance at the victory when he drove the 364-yard 18th and had a 35-foot putt for an eagle-2. His effort came up just short and he holed the birdie putt to close the final gap to one.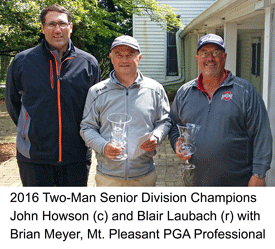 There were no other real challengers. Of the top 12 players at the beginning of the day, none had a lower score than their first day's result. Ryan Richardson-Chris Appell showed the most improvement, posting four birdies in a round of 68 (with a back-nine 32) that left them tied with Jeremy Goodwin-Brendan McKinney for third at 140. Kevin McDonough-Tim Kirkey also scored higher, but a second-round 78 included an eagle-2 at the 438-yard 14th, where he hit a 3-wood for his second shot.
One of the reasons for the scoring difference was a strong blustery wind and temperatures in the 50's. "It made the course play longer [than its listed 6,726 yards], and the set-up was tough but fair," according to Baloga.
John Howson and Blair Laubach won the Senior division with 72-74--146 after Howson two-putted for a winning par at the first playoff hole against Mark Coburn-John Barnes, who had finished 75-71--146. Howson with George Marin won two years ago and finished second last year.